Programs
2023 At a Glance
Writers Workshop with Noyes Capehart & Scott Oxford
November 16-18, 2023
Living Our Faith in Uncertain Times
December 1-2, 2023
---

Printmaking with Andi Dandelion
Andi Dandelion
October 14, 2023
$56 (includes lunch and supplies)
Johnson Hall Second Floor
Printmaking bliss with Andi Dandelion! Everyone can make art. Explore your creativity in a safe, encouraging space. A day dedicated to several types of printmaking, bonding with an artistic community, and enjoying the beauty and comfort of the Valle Crucis Conference Center...what could be better?
We will explore the use of positive and negative space to create an image. Once a block is complete, you will have the opportunity to transfer your hand carved image from the block to a wide selection of different paper surfaces. Additionally, you will be able to print using a variety of colors and experiment with how color influences an image's presentation. You are encouraged to think about what images you are interested in creating and bring any objects or pictures that might inspire you.
Andi Dandelion is a community social worker, an artist, and an active participant in, leader of, and advocate for the artist community of the High Country. You can follow her on Instagram at Soulcrafted1.
---

October 22-25, 2023
$456 single/private room; $381 double/shared room; $231 commuter rate
Accommodations in the Inn
Join Patrick Dean, the author of A Window to Heaven: The Daring First Ascent of Denali, America's Wildest Peak, which recounts the 1913 first summit of North America's highest peak, Mt. Denali, in Alaska by The Rev. Hudson Stuck. This retreat will invite you to encounter God and yourself in the wildness of these mountains and our lives through sharing the untold story of Hudson Stuck and by spending time hiking or relaxing at Valle Crucis Conference Center. Optional group hikes for various ability levels will be offered by Holy Hikes of WNC on Monday and Tuesday between learning about Hudson Stuck who spent much of his ministry visiting remote Alaskan villages by dogsled and advocating for Native rights in the early 1900s.
Participants may also enjoy downtime at the retreat center, visit nearby Boone, NC, or drive through the country on beautiful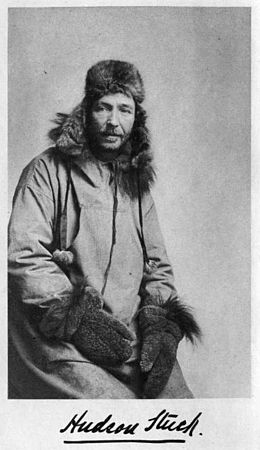 mountain roads. Come to the high country this fall to hike, grow in faith, learn about one of the church's unknown saints, and encounter the God who made it all.

Patrick Dean is the author of A Window to Heaven: The Daring First Ascent of Denali, America's Wildest Peak and Nature's Messenger: Mark Catesby and His Adventures in a New World. Dean lives, works, and plays in and around Monteagle, Tennessee. He has written speeches for Congressional candidates, taught inner-city high-school English, and earned a master's degree in theology.
Since 2012, Patrick has been a free-lance writer, social-media content creator, and website designer. He is also the executive director of the Mountain Goat Trail Alliance, a nonprofit dedicated to creating a walking and cycling trail on a former railroad bed. Patrick is a content ambassador for Territory Run Co.
A Window to Heaven is his first book.